Xamcor Inc. specializes in assisting small and medium-sized businesses that find themselves in uncharted territory due to mergers and acquisitions, changes in corporate leadership or large shifts in their established markets. Typically these companies have no internal M&A staff and do not want to devote personnel, resources, and attention to the M&A possibilities and opportunities. Xamcor can serve as your M&A team!
We also work with very large companies both inside and outside of our sector. Many of these companies are seeking to grow through acquisition, but do not have as deep a knowledge of the entire sector across the world as Xamcor possesses. They rely on our team to not only identify potential acquisitions, but also to understand how the company would enhance their market offerings and their overall company value.
What our clients say about Xamcor
While many deals are confidential, Xamcor relies on word of mouth to gain new clients. A sample of comments about Xamcor and its work: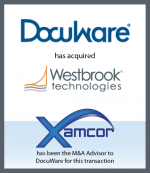 "Xamcor did a very good job in getting the deal done. They showed a lot of creativity and perseverance to work through the open issues which came up throughout the acquisition process. In general, Xamcor has an excellent understanding of the ECM industry and its players which allows them to match well potential partners and create new, unique value propositions."
– Thomas Schneck, President, DocuWare, New York, USA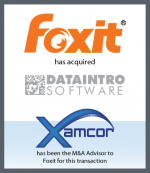 I've been a software entrepreneur for many years. I sold my company two years ago to a larger company. In the selling process, at first I did not understand what role was Xamcor going to play as a M&A advisor. I thought they were the company in the middle that was hired to try to rip me off. It couldn't be further from the truth. As the process evolved, I realized that Xamcor was not only on the buyers side (the buyer hired Xamcor) but also made me feel that they were on my side as the seller. I must admit that they played a key role in the transaction. Their experience helped us figure out a fair value for the company. Once we did, Xamcor helped the buyer to understand our value proposition. They were the key messengers that carry back and forth, and also translate the information that ends up building up the deal. Brick by brick. Their efforts and process helped both parties progress and close the deal. The work they do is just brilliant.
– Carlos Gonzalez, CEO, Dataintro Software (a FoxIt Software Company), Madrid, Spain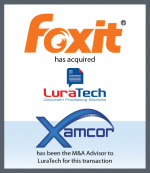 "Xamcor understood immediately what type of buyer LuraTech management was looking for, in order to reach our strategic exit goals. Thanks to Xamcor's extensive network in the industry, finding buyer candidates was a well structured process and a quick experience. When we finally came to first agreements, Xamcor's creativity bridged so many gaps, they found solution after solution, and without them we would have never reached a deal. Never try to sell your company without their support!"
– Carsten Heiermann, CEO, LuraTech, Berlin, Germany
The Xamcor Process works for all industries and sectors
The "secret" of any successful M&A transaction is not any single factor. Instead, success is the result of a very thorough, well designed, and time tested M&A Process. Xamcor uses its proprietary process in every engagement.
Our process also allows us to reach out to companies well outside of our sector.
With technologies merging and solutions combining various technical solutions, it is important to look at a buy or sell process as broadly as possible. At Xamcor, our team has experience in many sectors and application spaces, including:
ECM, BPM and BPO

Broader Information Management companies

CRM

ERP

Big Data

Business Intelligence & Business Analytics

Invoice Processing

Mobile

Medical
Common reasons for Sale
An exit to finally reap the rewards of building the business

Selling off parts of the business to focus on new solutions

Merging to form a stronger, more profitable entity
Common Reasons for Acquisitions
Add new solutions to a company's portfolio

Enter new application spaces

Add new technology to a firm

Add new geographical locations

Expansion and growth of the company to better position it for exit