M&A Activity in Asia Grows, Led by China
Roughly US$110 billion in M&A deals, or 15% of global deal value, involved Chinese buyers. 
Article by Donald Grava, President at Versailles Group, Ltd., www.versaillesgroup.com
While global M&A activity in Q1 2016 was lower than the record-breaking deal volume witnessed in Q1 2015, one bright spot has emerged amid volatile markets and political uncertainty: China.  In Q1 2016, China claimed its largest quarterly share of global mergers and acquisitions on record.  According to Thomson Reuters, roughly US$110 billion in M&A deals, or 15 percent of global deal value, involved Chinese buyers. 
The chart below depicts deal value in China across the past five years, 2012 – 2016. The value of outbound Chinese deals in Q1 2016 ($110 billion) surpassed China's previous annual record of $109 billion over the whole of 2015.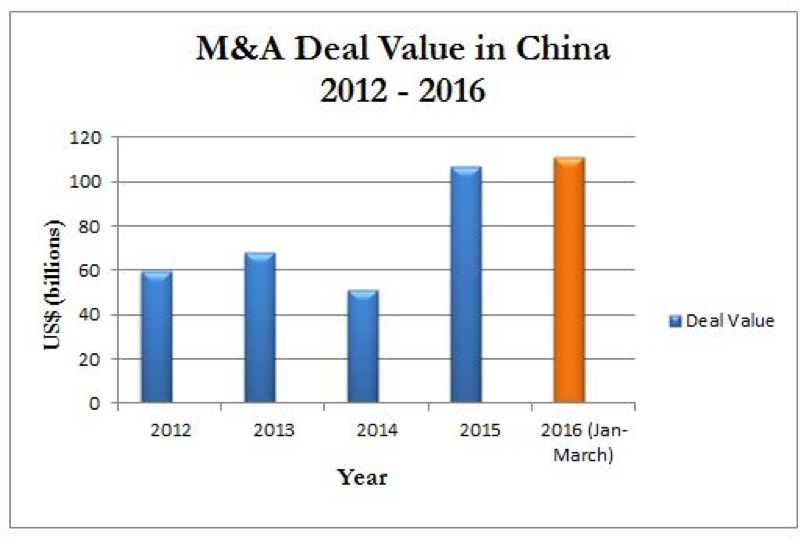 Overall, M&A activity in Q1 2016 throughout Asia increased by 9 percent compared to Q1 2015.  Last year, the region reached a deal value of US$275 billion, accounting for almost 40% of global deal value (US$699 billion).  When analyzing the activity by country, China played a significant role in M&A activity across the continent.  Mega deal activity, characterized by deals which have a value greater than $5 billion, contributed to China's M&A prowess, as the top ten deals in Asia all had either a Chinese company as an acquirer or a seller.  The largest deal in Q1 2016 was China National Chemical Corp's acquisition of the Swiss company Syngenta, which amounted to a $46 billion transaction and marked China's biggest takeover of a foreign company. 
Recently, China has exhibited a strong appetite for foreign acquisitions, particularly in the U.S.  O'Melveny law firm's 2016 investment study suggests that Chinese business owners' investment in the U.S. will be higher in 2016 than in previous years.  The study mentioned the U.S. as a key target nation for Chinese acquirers, as Chinese buyers are looking for growth at a time where their home markets are facing a relative slowdown.  Overall, China's cross border deal value has increased over the past year; including both inbound and outbound acquisitions.  Specifically, China's cross border deal value totaled $95.1 billion in Q1 2016, representing an increase of 136 percent compared to Q1 2015.  
Chinese companies have emerged as a dynamic force in deal making in a number of sectors.  China's increased M&A activity highlights its attempt to serve its growing consumer class, as the nation copes with sharp declines in its stock market and less domestic economic growth prospects.  According to Barclay's Head of Americas M&A, Larry Hamdan, we should "expect China outbound M&A to continue as they seek to bring leading international brands and technologies to their home market and to drive growth by expanding into new geographies."  Gilberto Pozzi, co-head of global M&A at Goldman Sachs, agrees that China is attempting to drive growth through cross border acquisitions, asserting that "robust Chinese M&A activity was primarily driven by a combination of decelerating growth in China, leading companies to diversify across geographies, and government support on foreign strategic acquisitions." 
In the future, we can expect China's remarkable amount of outbound M&A activity to continue. According to Pozzi, decelerating growth and the government's encouragement of foreign acquisitions are both "strong tailwinds which direct towards continued outbound Chinese M&A activity for the rest of 2016 and beyond."  As more Chinese buyers have recently begun to hire advisers very early in the deal making process, we have seen more and more successful transactions.