enChoice Announces Merger with Adjacent Technologies
A Powerful Synergy of Content Solutions
enChoice, Inc. today announced the successful completion of their merger with Adjacent Technologies. This merger creates a powerful synergy of experts and solutions, helping customers accelerate their digital transformation by leveraging content and optimizing business processes.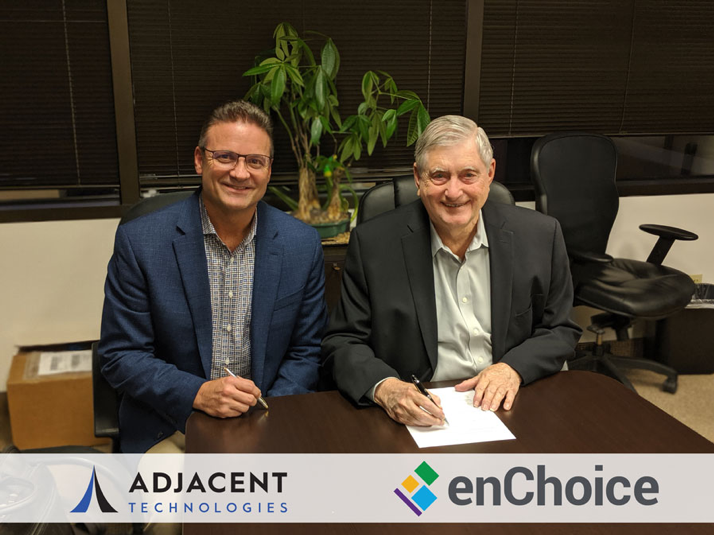 The combined company will operate under the enChoice, Inc. brand, with plans to relocate their headquarters to Austin, Texas while maintaining current offices in Tempe, Arizona and Shelton, Connecticut.
enChoice will now provide solutions and support across the full spectrum of enterprises from mid-market to large scale entities. In particular, the merged group will concentrate on solutions leveraging the IBM Digital Automation (DBA) platform and a variety of ERP systems including Microsoft Dynamics.
Tony White, CEO of enChoice commented, "This merger, coupled with our recent acquisition of Image Tag, propels enChoice into a prime position to become a significant player in the Digital Transformation market, across a wide range of customers and technologies. enChoice plans to continue our aggressive growth strategies, both organically as well as through further acquisitions."
Dave Parks, CEO and founder of Adjacent Technologies added, "Adjacent Technologies is excited to become part of the enChoice family. Our vision and goals are completely aligned, and our team brings significant capabilities and experience to the group which will enable us to leverage industry-leading capabilities such as a subscription model, cloud-based solutions and managed services. The critical mass we have achieved will allow us to accelerate our growth and enhance our profitability, while providing our collective customers with a larger and stronger team of experts and solutions."